Didier Pigeon
04/2018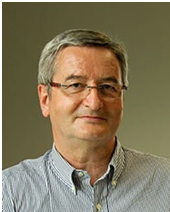 In April 2018, AD Systems faced a tragic event with the untimely death of Didier PIGEON, President of the company since its creation. His passing was a shock that rattled not only our company, but also the entire petroleum testing industry.
AD Systems would like to thank everyone who sent us messages of condolence and support.
My name is Martial LÉPINAY and I was Didier's partner since the beginning of the AD Systems venture. Starting AD Systems was a dream we shared through 30 years in the petroleum testing industry. As Manager of AD Systems Development and Production, I was the architect of Didier's vision.
The heartbreaking loss of Didier required the reorganization of our company to ensure the ongoing quality and continued development of the innovative products for which AD Systems is known.
Through great effort the AD Systems team took the difficult steps to reorganize. Our goal is to maintain contact with our distributors and customers while continuing the production of our state-of-the-art products.
AD Systems will continue the development of products and respond to changes in the oil market and the new constraints it faces. Our objective is to honor the legacy of Didier PIGEON.
Martial LÉPINAY
President / CEO of AD Systems